Booking.com6.5
Expedia.nl7.4
Google6.8
Nearby 's-Hertogenbosch
Welcome to Fletcher Hotel-Restaurant Prinsen. Situated in Vlijmen, this hotel is a few minutes away from the vibrant city 's-Hertogenbosch. The location of this hotel is the ideal base for a nice weekend away.
Numerous amounts of regional dishes on the menu
Nearby 's-Hertogenbosch, De Loonse en Drunense Duinen
Official wedding location
Four multi-functional conference rooms
Can be combined with a day trip to De Efteling
Lovely stay
Enjoy the different facilities during your stay at Fletcher Hotel-Restaurant Prinsen in the province of Brabant. You can explore the area by bike, as we recommend making use of our e-bike rental service available in the hotel. After a full day, join us in our à la carte restaurant for a delicious dinner and drink. In the afternoon and night we welcome you in the brasserie and hotel bar.
Are you looking for a fitting conference room for your business meeting? Then you are also at the right address. With four multi-functional conference rooms, this hotel is the ideal meeting venue in Vlijmen.
Versatile environment
Fletcher Hotel-Restaurant Prinsen is located in a beautiful and versatile environment, as the town of Vlijmen in Brabant has a lot to offer. For example, explore the outstanding nature reserves De Overlaat and De Loonse en Drunense Duinen where you can completely relax and unwind. If you are looking for more action and entertainment, we recommend visiting the golf course BurgGolf Haverleij.
Day out with an overnight stay
Combine your overnight stay with a visit to De Efteling. You will find the tickets including an overnight stay on our packages page.
Our team warmly welcomes you!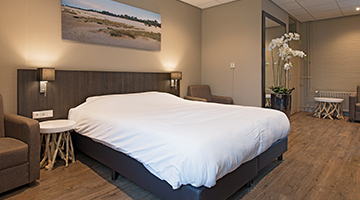 Photos and videos
Do you already want to get in the mood before you arrive at our hotel? Check out the photos and videos of our hotel here.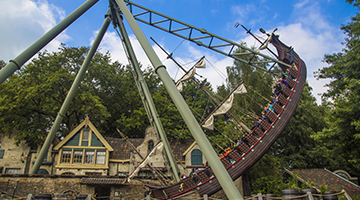 Brabant hospitality
With the many facilities hotel Prinsen offers, you are guaranteed a wonderful stay. Enjoy the Brabant hospitality in the bar or restaurant. The sheltered garden is the perfect place to relax.
Discover the nature of Brabant
Relax in the natural beauty of several national nature reserves. Ready for more action? The bustling cities of 's-Hertogenbosch and Tilburg are just around the corner.